What design are you looking for? EG Unicorn
Frequently asked questions
How do the lights work?
---
Each Illuminate Creation comes with instructions printed on the box label.
---
How do I create a photo light?
---
Upload your photo when making a purchase of your own photo light.
---
Can I personalise a light?
---
Yes! Remember to add the name in messages when you check out.
---
Can you create a light from an image I have?
---
Yes! Please email us with the image so we can create the needed artwork.
---
Which power bank to use?
---
We tested a night light on a 1200mA power bank. On a single charge, the night light was powered for 24 hours.
---
Have questions?
---
Feel free to contact us!
nesratech@gmail.com 061 305 0460 We are also on WhatsApp!
---
The cable is too short?
---
Because all Illuminate Creations are USB powered. In order to make the cable the length you need, you will need a USB extension cable.
---
Do the lights have batteries?
---
No. Illuminate Creations need to be powered, either with the supplied USB power supply, which plugs into a wall socket, or using any USB plug found on your PC, laptop, TV, car or playstation. Connect a power bank to work as a battery to make the light mobile.
---
Is it safe to leave the light on all night?
---
Yes. Illuminate Creations are 5V USB powered, so they are light on power and are safe to leave on all night.
---
My light stopped working? What do I do?
---
No worries. Follow the steps below to get your Illuminate Creation running perfectly again.
Please check that the night light is working by plugging it into another USB power source. (EG. A charged power bank, or another USB charger wall plug that you know works) If the night light is off and it is getting power, the night light will flash white when plugged into power.

If the red light on the remote does not flash, check that the remote battery is in correctly. Refer to the information found at the back of the remote. If the battery is flat please replace with a new one.

The lights are synchronised to their remotes. Meaning one remote controls only one light. When performing the re-synchronisation ensure that the light is powered using the supplied USB power supply. All other Illuminate Creations lights, must be removed from power when re-synchronising a light to its remote.

With the light powered using the supplied USB power supply, use the lights remote and press COLOR- and BRIGHT- buttons at the same time. The light should flash white for a second. Flash red green blue continuously. The remote is now synchronised with the light.

You can now use that remote with that light.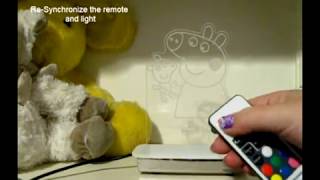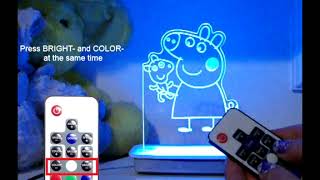 ---
Are the lights sanitised?
---
Yes, please see more information below regarding this.
---
---